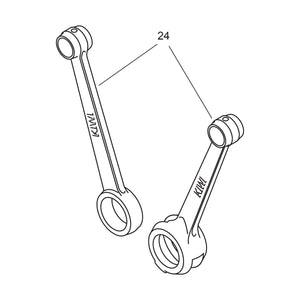 Forged I-beam connecting rods without connecting rod races
KIWI forged connecting rods are the best money can buy for Indians, period. Our rods are made from premium 4340 (high-performance racing engine material) for the ultimate in strength and durability making these absolutely indestructible. Original rods (and competitors) are marginal at best and the way I look at it, KIWI rods are your insurance policy. It's a small price to pay in order to save you the expense of a catastrophic (and expensive) failure down the road. This is an extremely good upgrade. Beware of import imitations as they are all junk.

Note: Sold as a Pair (2), includes #25
Note: There are 2 different engineering philosophies concerning I-beams vs H-beams, and both are right. We go with the I-beam connecting rods as they are bulletproof.