Collection:

12V Conversion Kit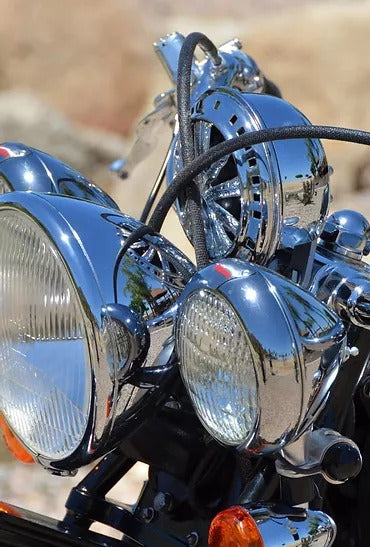 We offer the parts to convert your Indian Chief from 6v to 12v.
Since some original sockets or lights may have been changed out to non-factory/aftermarket parts, we have created this reference page for you to easily
identify which parts you will require.
From here it would be best to give us a call at 951.780.5400 or email
parts@kiwiindian.com to ensure accuracy. Please state the year of your Indian.

You will require the following parts to do your conversion properly:
75646RV CE high output generator with internal regulator
42591 Pulley
100225 Pulley key
100223K Pulley nut and washer kit.
42603 Generator drive belt
74160V Ignition coil
188002BV Battery
188002S Battery shell (in most cases you can reuse your existing shell).
38770 Battery mat
75540 Battery clamp (1940-53)
KI-10307 Circuit breaker
KI-10308 Circuit breaker bracket
27B153 Generator ground wire to trans tower bolt
Bulbs as shown below:
Head light (Motolamp)
Head light sealed beam
Front fender light
Spot lights – Sport style
Spot lights – Unity style
Tail light
Speedo light 1938-47
Speedo light 1948-51
Speedo light 1952-53
Generator warning light 1948-53
You will still use the same condenser, circuit breaker, and wiring harness (it's actually easier on the electrics as it's putting through half the amount of current). 6v horns work way better on 12v so no need to change it out.
Generator wiring instructions:
B terminal: Hot wire from the wiring harness
L terminal: Wire from the generator warning light
The terminal at the bottom: Ground wire to transmission tower bolt
15 products